Team Canada (FR and EN)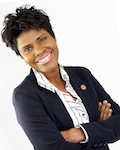 Sonia Albert a un arrière-plan en Economie et en Administration des Affaires. Elle a grandement développé ses compétences en négotiation et apporte avec elle une excellente connaissance du courtage des affaires. En tant que courtier immobilier commercial, Sonia travaille chaque jour avec des gens d'affaires et connait mieux comment les servir. Ses nombreuses années d'expérience dans plusieurs rôles font d'elle une conseillère avisée et le défenseur de ses clients.
Sonia has a background in Economics and Business Administration. She brings a strong negotiation skill and an excellent knowledge of the business brokerage market. As a commercial real estate broker, she deals everyday with business people and knows how to better serve them. Sonia's long and multidisciplinary experience in various positions makes her a particularly skilled adviser and advocate for her clients.
Toll Free: 877-606-8622 | Connect With Sonia
"Sonia and Alan have been a great help in identifying right practice for me. Thank you"

S., Pembroke, ON
"Sonia Albert went beyond to help us find a buyer."

Michel G., Laval, QC
"I highly recommend APS and the professional services of Alan and Sonia. They explained how the service works and then ensured that this is what happened and assisted along at every step of the way. A great team."


Laura
"Il y a quelques mois et ce durant la haute saison de pandémie, j'ai décidé de vendre mon cabinet. Votre assistance pour la vente de mon cabinet a permis de matérialiser rapidement une vente. Sans votre assistance ce projet n'aurais pas été mené si efficacement et le résultat serait assurément incertain. Encore merci! "

François Paupe
"A few months ago during the high pandemic season, I decided to sell my practice. Your assistance in the sale of my practice made it possible to quickly materialize a sale. Without your assistance this project would not have been carried out so effectively and the result would have been undoubtedly uncertain. Thanks again."

François Paupe

Alan Liverman graduated with a Bachelor of Commerce degree before joining a national firm of Chartered Accountants and becoming a member of the Ordre des comptables agréés du Québec, where he was a member from January 23, 1973-August 27, 1998.
After achieving partnership in the C.A. firm and practising as a consultant to businesses in various industries, Alan ventured into the private sector. He was a partner of a very successful international apparel company, COO of a children's wear manufacturer and then owner/operator of several different businesses in the gift, home decoration and restaurant supply industries. Most recently as President of Alive Business Consultants, Alan has specialized in matching buyers and sellers of small to medium-sized businesses. Alan certainly understands the issues of business succession and his experiences have made him a very strong negotiator.
Toll Free: 877-606-8622 | Connect With Alan